TECHNOLOGICAL INNOVATIONS IN SMART HOME CLIMATE CONTROL

VOICE AND SMARTPHONE CONTROL OF THERMAL SYSTEMS
The voyage of discovery is not in seeking new landscapes but in having new eyes.
(Marcel Proust)
MOBILE THERMOSTAT APP FOR IOS AND ANDROID
Termogea APP turns your phone into a personal digital thermostat. In this way you are able to check the environmental climate parameters of your home from your smartphone at any time and wherever you are.
The control panel of your heating and cooling system is your smartphone.
In this way you can remotely set the desired temperature values for each room and switch on or turn off the system.
Features:
Heating, cooling and dehumidification.

On/Off climatic zones.

Operating state.

Multizone control.

Temperature set point.

Temperature and humidity measurement.

Summer/Winter switch.

Weekly programming of temperatures.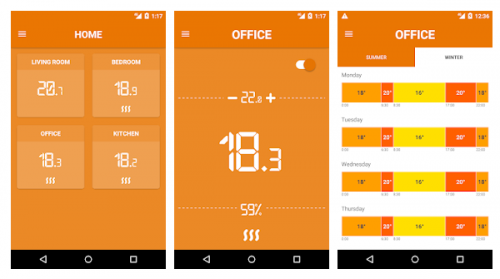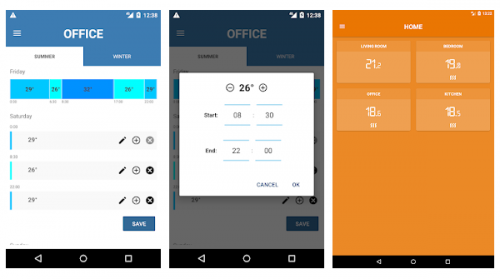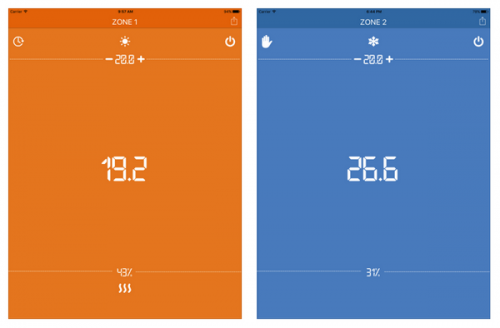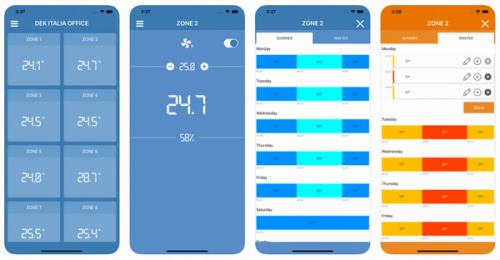 All Termogea control units are connected to the Internet thanks to the on-board web server and through the Ethernet or WiFi interface.
With this connection, the systems can also be managed remotely from your own Smartphone, Tablet or PC.
From the WEB interface, the end user can view and act on energy consumption and every other parameters of their system.
The new cloud services
Km, hrs and kWh saving

One of the advantages most appreciated by our customers is saving of kilometers and hours by the maintainers thanks to the control and management of the systems directly from their office.
This allows us to offer our customers a timely service or even preventive maintenance.
Another advantage of Termogea is saving in terms of energy/kWh. In fact, thanks to graphs and historical data detected by the systems and thanks to the simple and clear web interface, it is possible to view inefficiencies and activate energy optimization mechanisms.
Predictive and real-time maintenance
Installers and maintainers can read the history data of the systems and act on them through the SW TERMOSETUP.
Thanks to the cloud and this innovative interface, maintainers can easly perform all the following activities from their own office.
Read all the parameters of the system and the generator (heat pump or boiler).

Do the tests on all controlled machines: fan-coils, radiant floor/ceiling heads, thermostatic valves, dehumidifiers, ventilation machines (VMC), circulation pumps, mixing valves, etc.

Configure the thresholds for alarms on any parameter.

In this way, if a parameter (temperature, humidity or other) exceeds the preset thresholds, the maintainer will get a real-time email report.


Check the values of electrical and thermal energy as well as those related to the performance of a system such as COP EER on a monthly, daily and hourly basis.
Connect to our DEMO SYSTEM for a test:
Username = demo – Password = demo
Not only smartphones, tablets and PCs!
It is possible to talk to your home thanks to the voice commands of Amazon Echo (Alexa) and Google Assistant.
These are some voice commands and examples for Amazon Echo (Alexa):
Command: Set zone 1 mode to off
Answer: It is off (the thermostat deactivates)
Command: What is the zone 1 temperature?
Answer: Zone 1 temperature is 20 degrees
Command: Set the zone 1 temperature to 23 degrees
Answer: Zone 1 device is set to 23
Command: Increase zone 1 temperature by 1 degree
Answer: Zone 1 device is set to 23
Command: Lower the zone 1 temperature by 1 degree
Answer: Zone 1 device is set to 21
INSTALLATION WITHOUT CABLES AND MASONRY WORKS

Termogea Wireless is the room climate control system which uses the Zwave interfaces for communication between the control unit and sensors, relays and thermostats.
This technology is widely used in the world of Home Automation.
Thanks to Termogea Wireless, it is possible to avoid the use of cables that would normally need to be installed in all areas of a house or office.
The sensors and thermostats are battery-operated while the relays are powered by the 230V electricity main.
These devices communicate with the control unit via radio: they do not need to be wired and therefore can be installed in any room of the house or office without masonry works.
The installer configures the system thanks to the Software that can be used from any Smartphone or Tablet. In addition, each device acts also as a radio signal repeater.