One of the most important technological innovations Termogea introduced in the world of Smart Home Climate Control is the integrated web-server. This system enables remote monitoring and control of thermal system for any kind of buildings.
Every Termogea system is connected straight to the Internet, without any modems or external gateaways. In the cloud, the desired parameters are stored and processed for customized remote control, as well as energy and performance data for reduce consumption.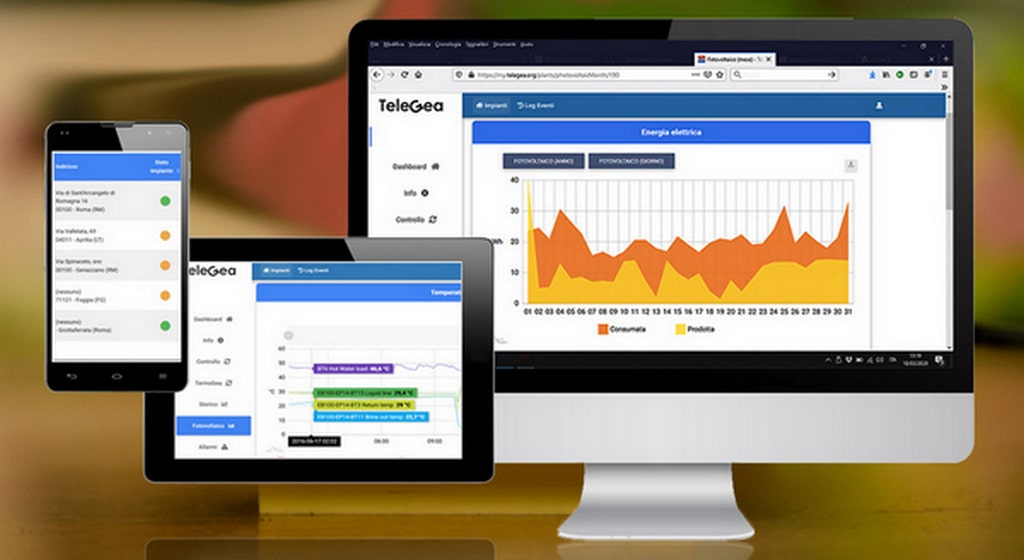 THE TERMOGEA BUILDING AUTOMATION SYSTEM IS ARTICULATED ON THREE INTERCONNECTED MODULES
THE TERMOGEA APP IOS & ANDROID
The TERMOGEA APP user interface for remote control of all environmental parameters via IoS/Android smartphone and PC.
ALL HARDWARE COMPONENTS
All hardware and software systems present in the building. The TELEGEA SMART HUB control unit and the TELEGEA SMART TOUCH panel, both with integrated gateway, for the control of all environmental parameters. TERMOCONF and TERMOSETUP, applications pre-installed on the control unit for the configuration and remote testing of the system. Hydraulic, electrical and electronic components such as liter counter, kilowatt meter, energy meter, ambient probes, thermostatic valves, relays, expansion modules, actuators, servomotors, zone valves, hydraulic modules, etc.
THE TELEGEA WEB PLATFORM
The Telegea Platform, the cloud system that exchanges data between all modules.
GO TO THE TELEGEA PLATFORM
User name = demo – Password = demo